Box Hill Neighbourhood Council Community Website
An extensive catering business…
By Graham Whyte
At the beginning of the 20th century, one of Box Hill's most numerous, if not foremost, families was the Wheelers.  
 Berkshire-born Edmund Wheeler was landlord of what was then the Hand in Hand public house, in the civil parish of Betchworth. According to the 1901 census, 40-year-old Mr. Wheeler lived at the inn with his wife, mother and six children. Edmund Wheeler had clearly not moved directly to Box Hill from his home town of Braywick, on the banks of the Thames. This is evident from the places in which his children were born. For example, his eldest son, Charles – who was 17 at the time of the census – was born in London, at St John's Wood. Two daughters and a son were born at Bexley in Kent, and the two youngest at Burstow, near the present Gatwick Airport. John's mum was closest to home – she was born at Rusper in 1840.  
But that was only part of the story. In those days, the Hand in Hand was a substantial property, standing in three acres, with a further 23 acres of pasture, extending as far as the present Surrey Hills Park and some way back from the Boxhill Road. It was surrounded by a number of outbuildings, including two cottages and a barn, which together were home to a further 19 farm labourers and lime-kiln workers from as far afield as Southampton, Portsmouth and Canterbury. If there are any Box Hill villagers with the surnames Felton, Pledge, Skelton or Hampshire, they might well be related to one of these early settlers.  
Following the death of Susan Hamilton Dent, Countess of Harrowby, who had lived at High Ashurst until shortly before her death in 1913, and prompted by the fiscal squeeze of Lloyd George's land value tax, the High Ashurst estate of Earl Harrowby was put up for sale in 1918, immdiately after World War One. However, various delays occured and it was eventually placed under the hammer of Messrs Watkin & Watkin, late of Reigate, on Thursday May 19th, 1921. From that date on, Box Hill village began to take shape.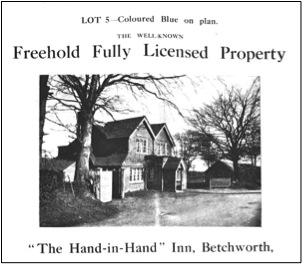 The Harrowby estate included – as Lot 5 – the Hand in Hand. Even allowing for artistic licence, the auctioneer's particulars of the wayside inn read more like a description of a country mansion than a humble public house. The property included '…a range of buildings, two motor houses, stables, pigsties, cart shed, brick and slate stabling for 14 horses, cycle shed, paddock and good garden.' Situated in '…this favourite rural holiday resort', the Hand in Hand, Betchworth, also boasted a coffee room, hotel accommodation, and a timber-built washhouse. The inn itself must have been quite pretty, partly covered as it was by Wistaria creeper.  In the 1920s, the Hand in Hand appears to have been located closer to the road, and stood - partly, at least - in what is now its front car park. The lowered terrace on which the pub now sits was introduced in the 1930s, when the whole site was substantially re-modelled.

When the inn went under the hammer in the 1920s, it was still leased to Mellersh & Neale, who were local brewers from Reigate. At that time, the company was paying £110 rental per annum, plus tithes and outgoings to the Harrowby estate, and in return received £65 per annum in rent from the various detached properties.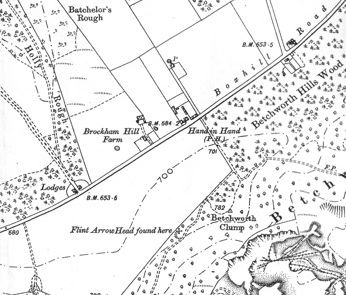 In the auctioneer's lavish catalogue, would-be purchasers were reminded that the property
was
admirably adapted for the carrying on of an
 extensive catering business amidst truly romantic scenery, or suitable for conversion into an attractive small residential hotel'. Sounds perfect should a large sporting event ever come to town.
This 1895 map clearly shows the Hand in Hand pub on Boxhill Road. A short distance to the south-west, along Boxhill Road, is the entrance to the lane which is now Ashurst Drive – the two lodges showing at the entrance are, of course, still there. Lot 5 included all the land in the rectangle to the rear of the pub. Brockham Hill Farm was not part of the Harrowby estate and was is surrounded by what was Lot 9 - 38 acres of rough pasture, better know nowadays as Surrey Hills Park.
© Graham Whyte 2012
Boxhill resident, Graham Whyte, is a freelance journalist and historian 
---
Tom Macaulay asks….what's in a road?
There can scarcely be a resident of Box Hill who has not at some stage driven down Mill Lane towards Leatherhead.

Of course, Mill Lane is not its proper name. As you turn left off Headley Heath the first part is called Tot Hill. Once you've gone past the houses it becomes Leech Lane, and then, after the dip, Mill Way, which it remains until you reach the end of the golf course, where for the rest of its journey it calls itself the Reigate Road (formerly Reigaterose Road). If you read carefully, most of the signposts call it the B2033.  

As the road twists and turns you scarcely have time to take notice of your surroundings, let alone time to stop, but before the horseless carriage, Tot Hill had plenty to tempt the passer-by. There was a baker, a boot-maker, and a butcher – not to mention The Clermont, a popular pub. Nearby Slough Lane housed a laundry, and several adjacent farms kept the hamlet of Tot Hill supplied with milk.   Leech Hill may well take its name from the blood-sucking creatures much loved by 18th & 19th century doctors. These creatures would quite probably have proliferated in the brackish water running down Headley Valley and across the foot of Leech Hill into what is now Lodgebottom Road.

As you climb up towards Nower (right) and Cherkley (left) Woods (by now on Mill Way) you are surrounded by something called an AGLV, which, apparently, is an Area of Great Landscape Value. Not content with that, the area is also a Special Area of Conservation by virtue of its rare yew and box woodlands.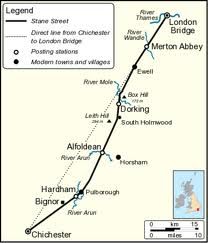 Beyond the crest of the hill, Tyrells Wood golf course comes into view. Once the private playground of Roger Cunliffe, the house at Tyrells Wood was built as an adjunct to the family seat at Headley Court, once an Elizabethan farm house converted into a mansion by Walter, first Baron Cunliffe. During his tenure as Governor of the Bank of England, Walter Cunliffe, apart from averting a gold crisis, also found time to record that he was '…pained by some of the costumes he encountered in the hallways' and went on to stipulate that female employees must, during the summer, wear white blouses that are '….absolutely white without coloured pattern or design upon them.' He also found time to become a director of the North Eastern railway, and of the giant P&O shipping line.
Just as you get to the end of the golf course, there is a tiny hump in the road as it kinks slightly left before it passes Cherkley Court. That hump conceals what students of Roman roads call an agger, the low earthworks and ditches that form the boundary of the compacted road surface. In this case, the road is Stane Street, which ran from Chichester to what is now London Bridge. Much of the modern A29 still follows the alignment of Stane Street, particularly on the section between Ockley and Billingshurst. A spur off Stane Street near 30-Acres Barn above Langley Vale heads off north-westwards to Chessington, which was once an estate on the banks of the Thames owned by the same Romano-British landowner as Chichester, hence the similarity in names.  

By now Mill Way has become Reigate Road, but is not done with history. To the left is Cherkley Court, which we are told is to become a country club. Originally the home of wool magnate, Abraham Dixon, Cherkley Court was bought in 1910 by Max Aitken, otherwise known as Lord Beaverbrook, owner of the Daily Express and host at his hillside mansion to the great and wonderful, including Rudyard Kipling, Winston Churchill and H G Wells. The last-named includes a thinly disguised reference to Cherkley Court in his novel Tono-Bungay, in which a primitive flying machine is being tested in the grounds of what, from its description, can be no other place.  

Before we reach the so-called Beaverbrook roundabout, there's just time to reflect that the sleepy little B2033, despite being a long way removed from the mighty A23, and even further from the Dover-bound majesty of the A2, has nonetheless an interesting story to tell, and one that I hope you will recall next time you take a trip to Leatherhead. 



© Tom Macaulay 2012




Boxhill resident, Tom Macaulay, is a writer and researcher
A good scout
By Graham Whyte
When the High Ashurst estate was sold in 1921, adjacent to the eastern-most plot (roughly where Box Hill House is now) was a large parcel of land with a frontage on Boxhill Road, marked on the estate map as being the property of a Captain O E Warburg.  
This was Captain Oscar Emanuel Warburg, of German descent, who, on 12 March 1919, had retired from his command in the Royal Garrison Artillery.  Clearly a leader of men, Oscar Warburg went on to concern himself with improving the condition of London hospitals, leading, in 1925, to his appointment as Chairman of the London County Council. En-route he had been awarded the OBE and eventually he became Sir Oscar Warburg, Lady Warburg being Catherine Widdrington Byrne – late of Streatham - whose father was for a time the MP for Walthamstow.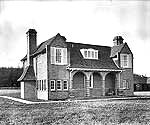 Sir Oscar's parents had settled in Hastings and it was from there he moved to set up his own home at Boidier, in its 100-acre plot next door to the High Ashurst estate. He died in 1937, but Lady Warburg continued living at Boidier, devoting her time to what amounted to a private zoo, containing many exotic birds and a considerable number of domestic animals. She also continued to maintain her husband's estate, recording the names and locations of hundreds of trees and shrubs, assisted by her son Edmund who was one of Britain's leading botanists, enjoying a distinguished career at Oxford University.  
Being something of a good scout herself, in 1946, Lady Warburg donated 10 acres of her woodland to the Epsom & Leatherhead  troop of the Boy Scouts Association. She later offered more land at Heath Plantation, which was too large for the troop to manage and so was declined.  The scouts' land was named Boidierhurst, a name familiar to this day, and it soon became an established location for visiting scouts and their cheery 1940's songs around the camp fire.  
Meanwhile, one of Sir Oscar's sons, Robert, and his wife, had bought 20 acres of land from their mother and established Dukes Wood, to which, for many years, milk and bread were delivered for collection by scouts staying at the camp – but not after 6 pm was the strict rule.  
The scout movement has reorganised itself several times since 1946 and the original troop is no longer in charge. And the once-primitive facilities have been greatly improved during the past 50 years and milk for the scouts is no longer delivered to Dukes Wood. But the woods still resound to young men and women doing what they do around a camp fire, albeit these days to the sound of iPods and MP3 players.  



© Graham Whyte 2012



7th July - Happy Birthday Box Hill


By Graham Whyte



Just as Norbury Park was once famous for walnut trees – some 40,00 were growing there in the time of John Evelyn, the diarist – so Box Hill was equally famous for, unsurprisingly, box trees. Now, the name Box Hill is almost a misnomer, for very few of the eponymous little trees are to be found.  

So what happened to them all? To solve the mystery, we need to retrace the history of Box Hill to the latter part of the 18th century. At that time it was owned by no less a personage than the splendidly named Sir Henry Paulet St. John-Mildmay, Baronet. He was the third St John-Mildmay baronet, and MP for Westbury, Winchester and Hampshire. His mother was the daughter of the philosopher Abraham Tucker, who owned Betchworth Castle. Described by one of his fellow MPs as ''….a capricious, vain, ill-tempered man, with some minor talents and insufferable pretensions", Mildmay's career as a politician was almost ruined when he was discovered to have profited from a lease granted to the army on land he owned while he was a member of the Parliamentary Finance Committee.  

It came to pass that this slightly dubious character decided to augment his not-inconsiderable fortune – estimated in 1810 to be around £25,000 per annum – by flogging off the box trees on Box Hill, which he happened to own. Box was popular at the time for making (no surprise) boxes and musical instruments, notably the recorder. It is a very dense wood – like mahogany, it doesn't float – and was also prized for woodblock printing, chess pieces and for fine wood-carving. In short, it was quite a valuable resource.  

And that's how the baronet thought of it, too. And in January 1797 he sold all the box trees on Box Hill that were more than 20 years' old. That would mean pretty much the whole lot. The two gentlemen who bought it paid Sir Henry £10,000 – that's around £1 million in today's money. The baronet presumably got his payment as a lump sum, but the tree fellers (and, yes, there was a third purchaser) were limited to a harvest of 380 tons per year, cut between September and March. The whole lot was to be cleared by 1815, at the latest, and it was.  

Shortly after concluding the deal on the box trees, Sir Henry Mildmay sold his entire estate to a Mr Henry Peters. a London banker, and MP for Oxford. But scarcely before poor Henry could question the whereabouts of his trees, the baronet had slipped his mortal coil and (oh dear) the banker knew what it was to own dwindling assets.  
Mr Peters retained ownership until his death in 1834, when the trustees of his estate sold it on to Henry Thomas Hope, MP, Surrey magistrate, and founder of the Royal Botanical Society. He knew Brunel and helped raise money for the ill-fated Great Eastern – the largest ship ever built at that time. It failed to do the job for which it was designed, and ended its days laying transatlantic telephone cables, which, serendipitously for us, were manufactured by a company owned by one of Hope's near neighbours – Sir Richard Attwood Glass, of High Ashurst.  

The Deepdene Estate, as it was called, remained in the Hope family until 1921, when it was broken up and sold at auction. Lot 38 was the eastern half of what we all consider Box Hill, and the area in which all the box trees once grew. It is the quieter half rising from Juniper Bottom on Headley Road to Ashurst Rough and the keepers' cottages east of Donkey Green.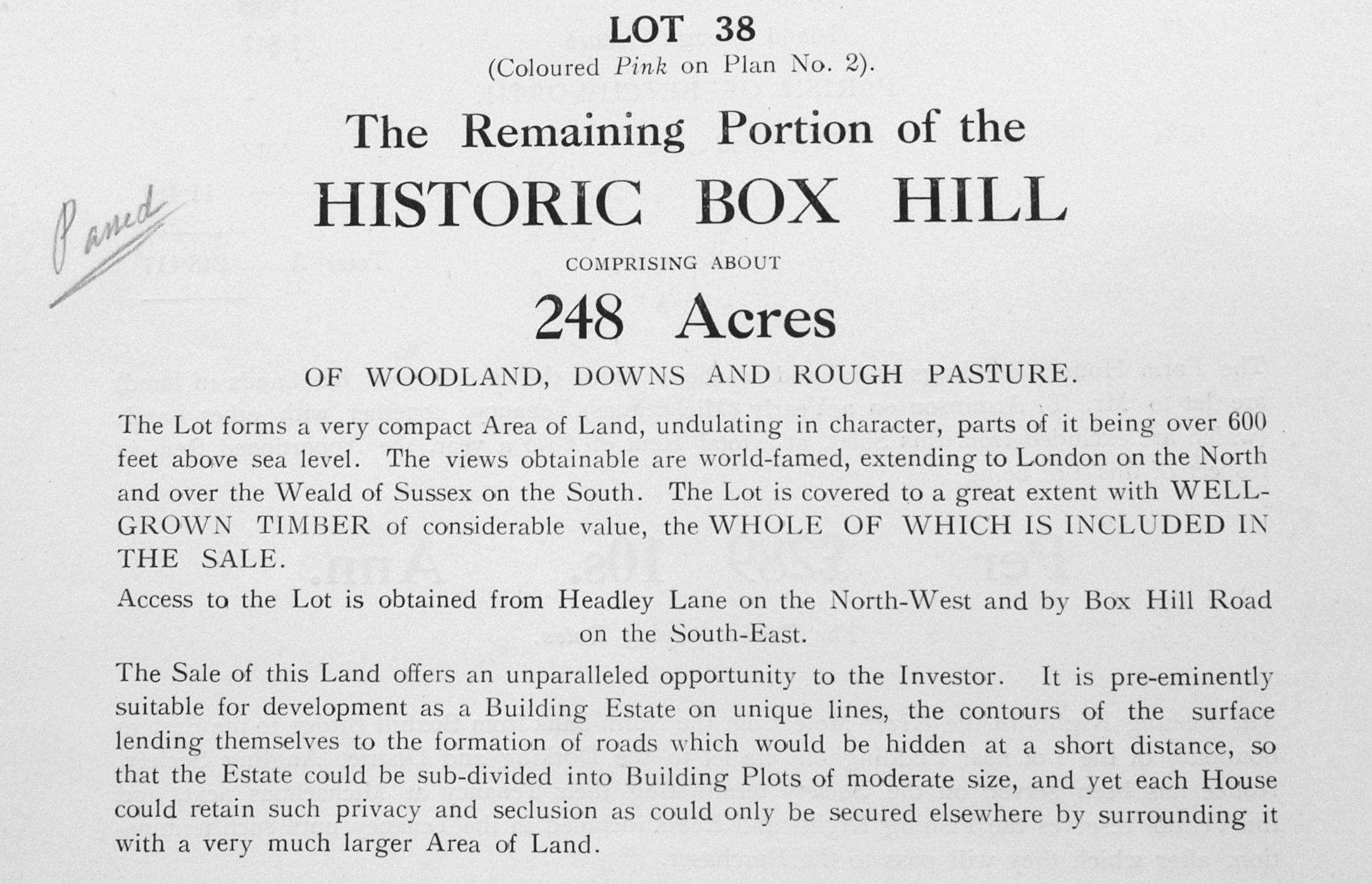 Fortunately, Lot 38 – 248 acres of woodland - attracted no bidders, for which we must be eternally thankful. Why? The auctioneer's description in the lavish brochure that accompanied the auction read as follows: 'The sale of this land offers an unparalleled opportunity to the investor. It is pre-eminently suitable for development as a Building Estate on unique lines, the contours of the surface lending themselves to the formation of roads which would be hidden at a short distance, so that the estate could be sub-divided into Building Plots of moderate size.'  

Had the sale gone through, our green and pleasant land would have become a housing estate, and given that one thing leads to another, the first estate would have spawned a second, and that's how Tadworth, in the space of twenty short years, turned from open countryside into what you see today.  

So God bless all you reluctant bidders on March 7th 1921 – for today we celebrate our birthday. 91 years and still counting, since the day our verdant village escaped the auctioneer's gavel.



© Graham Whyte 2012 


Men at work
One hundred years ago, there was no such village as Box Hill. In order to find the few houses and farms scattered among the trees and fields of an otherwise unoccupied tract of land, you would need to search the census returns for Headley, Mickleham, West Betchworth and Brockham. These contiguous parishes together accounted for the various parcels of land and estates that were divided up in the 1920s and from which the framework of our present village was formed. Even the village pub was technically in West Betchworth, and still is.  
However, in the closing years of Queen Victoria's reign there was a thriving community, scarcely more than a stone's throw from the present village hall. Located closer to Boxhill Road than many of today's village properties, the Brockham Lime Pits provided a living for a hundred or more workmen, many of whom lived with their large families in cottages next to the pits, in cottages and barns behind the former Hand-in-Hand (which, in those days, was located where now you will find Barn Motors and the poodle parlour), and as lodgers in houses located throughout Betchworth and Brockham.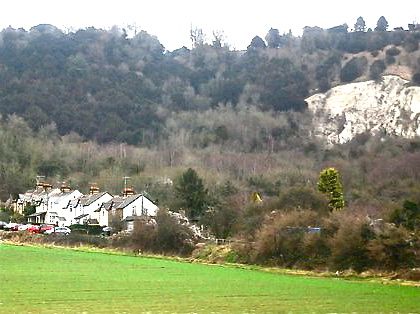 Some of the more privileged workmen were housed in cottages at the top of the present Chalkpit Lane, where five cottages were erected at the cost of £485 each. These were sub-divided, making 10 dwellings in total. In 1891, these cottages were home to some 50 or more men, women and children. 
These houses are still known as Bishop's Cottages, to commemorate one of the pit managers, Albert Bishop, who had designed a new type of lime kiln, which became known as a Brockham Kiln, and which was reputed to be more efficient than traditional kilns.
 
The ownership of the lime-pit operating company changed several times during the late Victorian and early Edwardian period, but the site remained the property of the Hope family of Deepdene, on whose land it was located. During their most productive period, the lime pits comprised 10 lime kilns, a coal elevator, a grinding mill, a stationary steam engine, stables, three hearthstone mines, brick kilns, a clay pit, a brick-making plant, and Bob, Duke and Pedlar – the horses used to drag the loaded clay wagons along the narrow railway lines that criss-crossed the site.  
The Deepdene estate went to auction in 1921, and Lot 30 was described as 'The valuable lime and hearthstone quarry known as Brockham Lime Works' for which the annual rental income for the entire 113-acre site was just £170 10/- (£170.50). In addition, Lot 31 comprised 'Five pairs of well-built cottages' for which the annual rental income was £169.00. These were and are Bishop's Cottages and for which each tenant was paying a weekly rental of  just over six shillings (30p).  
Of course, the tenants are long gone and the cottages have become very desirable semis with an RH3 postcode and an asking price north of 200 grand. Perhaps even more desirable is the way in which the former pits are returning to their roots – literally. Trees now cover the old pits, and in place of the cries and curses of men at work, the only sound now to rise above the untroubled chalk is that of birdsong.  
To witness this for yourself, take the footpath to the right of the Roof of the World mobile-home park. Within a few hundred yards you will encounter the North Downs Way, and a large painted sign depicting the layout of the once-clamorous home of Bob, Duke and Pedlar. A path leads down beside the old works, but is very steep and should be treated with extreme caution. But the little oasis of verdant calm suspended 600 feet above the floor of the pits is reward enough in itself.
The Diamond Geezer of Deepdene


The story of Deepdene starts in Scotland, moves to Holland and returns to Surrey, where gambling fever robbed an estate of millions, and profligate living the nation of one of its greatest heirlooms. It is a story of slave trading, fabulous wealth, a family fall-out, a not-so crafty grandma, and an American actress who would dazzle London society by sporting a diamond once owned by the Sun King.

In the eighteenth century, six sons of a Scottish merchant, Archibald Hope, moved to Amsterdam where they became active in shipping, storage and insurance, which provided sufficient wealth to establish a private bank that would in due course through marriage be linked to Barings.


At the outset the Hope brothers made money by organising the passage of Quakers from Rotterdam to Pennsylvania. Many thousands of emigrants were transported, their costs being paid for by the city of Rotterdam and the local Mennonite church at a rate equivalent in 2014 to £500 a head. When this traffic dried up, the Hopes began transporting slaves from Amsterdam to America. The slave trade was much less lucrative, but the slaves cost a great deal less to feed and water; so the company continued to prosper, with the Hope brothers accruing considerable personal fortunes.


In 1762 a nephew, Jan Hope (de Hoop), joined the company and his eldest son, Thomas Hope, went on to marry Louisa de la Poer Beresford in 1806 and acquire a house and land at Deepdene, land which at one time had been part of a vast estate owned by the Duke of Norfolk and strictly administered from his castle at Arundel. At Deepdene, surrounded by his large collections of paintings, sculpture and antiques, Hope cultivated the company of men of letters and ladies accustomed to London high society.


But the family was irrevocably split when Thomas and Louisa's eldest son, Henry Thomas Hope, became estranged from his brothers after he inherited not only their father's art collections, wealth and property, but also that of their uncle, Henry Phillip Hope, who had acquired the fabulous Hope Diamond, which had once been owned by Louis XIV, the Sun King, and later our own King George IV.


In 1851, the estranged brother, Henry Thomas Hope, married Anne Adele Bichat, having already had a daughter named Henrietta with her in 1843. Henry Thomas Hope enjoyed a successful political career and also founded the Art Union of London and the Royal Botanical Society, as well as serving as vice-president of the Society of Arts and president of the Surrey Archaeological Society. Not content with his rising station in life, Henry Hope went on to help organise the 1851 Great Exhibition and chair the Eastern Steam Navigation Company for Isambard Kingdom Brunel.


Henry and Anne Adele Hope's legitimised daughter, Henrietta Hope, married Henry Pelham Alexander Pelham-Clinton who was eventually to become the 6th Duke of Newcastle-under-Lyme, but not before he was forced to flee the country to escape gambling debts amounting to an extraordinary £230,000 (more than £24 million in today's values). When in 1861 he married the fabulously wealthy Henrietta Hope, part of the marriage dowry included the settlement of his debts. In addition an income of £50,000 (£5 million) a year was settled on the couple. In due course extensive lands in England and Ireland were also added to the family holdings by inheritance from his father-in-law, although Henry Pelham was never allowed to take control of the purse strings.


When Henry Hope died in 1862, his widow Anne Adele inherited his fortune along with the Hope Diamond. Fearing that her profligate son-in-law (Henrietta's husband) might squander the Hope fortune, her will bequeathed the Hope millions to one of her grandchildren, Henrietta's younger son, Henry Francis Hope Pelham-Clinton, in the belief it would be in safe hands. Even so, the will was subject to a number of entails including a condition that he add the name of 'Hope' to his own surnames by Royal Licence when he reached the age of legal majority, and furthermore that he would enjoy only a life interest in his inheritance. The entail further prevented Henry Francis from selling any Hope property, including the diamond, without High Court permission.


In 1894, the grandson in question, Lord Henry Francis Hope Pelham-Clinton Hope, 8th Duke of Newcastle-under-Lyme and 15th Earl Lincoln, as he had become, met the American music hall actress May Yohé who became his mistress, pending their marriage later the same year. May was sometimes seen in society wearing the 45-carat Hope diamond, although not on stage, apparently. But Lord Francis, as he liked to be known, must have had granny Adele turning in her family vault. Like his father before him, Lord Francis lived well beyond his means, and this eventually caught up with him, leading to marriage troubles and financial reverses, which prompted him to flog the family jewels including the fabulous Hope Diamond - an act of cultural vandalism that was inexplicably sanctioned by the Master in Chancery in 1901. Unfortunately it was not in time to save his marriage. Fed up, no doubt, with being on her uppers, his wife had run off with an American soldier.


Following his subsequent divorce in 1902, Lord Francis sold the diamond for £29,000 (£2.6 million today) and it eventually found its way to the Smithsonian Institute in America and is currently valued at around £150 million. Anyway, still not content, and after lengthy litigation in the Court of Chancery, he was able to break the entail on most of his grandmother's trusts, allowing him to sell off large chunks of his Deepdene estate, including (he hoped) several hundred acres of Box Hill. In a letter to the times in 1913, he justified his reasons for offering Box Hill for building development in these terms: 'As tenant for life the estate, near Dorking, I have read with interest recent articles in various newspapers on the subject Box Hill, and I think it advisable to state the reasons that have induced me to instruct my agents to offer facilities for building on my estate, of which Box Hill forms part. The estate embraces a large area of land which yields practically no income, but which possesses considerable value for building, and in view of the claims I am now receiving for undeveloped land duty, and the increasing burdens upon land of this description, I feel that I have no alternative but to take steps to realise funds in order meet these demands.'


Fortunately, through a combination of generous benefactors, notably Leopold Salomons, and public subscription, the area that now largely comprises Box Hill Country Park was saved for the nation, and the Zig Zag Road that Hope had intended should become the service road for a giant housing estate remains a pretty country lane for the quiet enjoyment of the odd car or two and (rare indeed!) the occasional cyclist. Having successfully turned the north side of the A25 into a housing estate, Hope retired to the family's country seat at Clumber Park in Nottinghamshire, where in 1941 he died peacefully in his sleep.
BOX HILL'S OWN DOWNTON ABBEY 
Of the many thousands of people who visit Box Hill every weekend, very few will be aware that within a few hundred metres of the viewpoint there was once a mansion to rival Downton Abbey, and that the folks who lived on the hill were ranked among the highest in society. 
Built in the mid-18th Century in an Italianate style, and successively modified by its various rich and demanding owners, in 1882 High Ashurst became the property of the Hon. Henry Dudley Ryder, who in due course would become the 4th Earl Harrowby. Despite having another large estate in Staffordshire, the Earl-to-be set about modernising High Ashurst, and had central heating, electric lighting and running hot water installed in each of its 40 bedrooms. It had its own farm, sunken fresh-water tanks, and more than 1,200 acres of land on which Henry Ryder and his guests could hone their marksmanship. It became what was known as a 'shooting estate'. 
Before Henry Ryder took up residence, High Ashurst had been owned by various Victorian industrialists and bankers, and before that, in the Georgian period, several prominent men of letters, including, in a very literal sense, the King's Printer, Andrew Strahan. Unfortunately, Andrew Strahan had a rather miscreant nephew, William Snow, who changed his surname by deed poll to his mother's maiden name, Strahan, (she was Andrew's sister) in order to exploit the fame accrued by his famous uncle. In due course, William inherited his uncle's considerable fortune, and his home, but unfortunately not his business acumen, and in 1855 William Strahan was declared bankrupt. In consequence High Ashurst was acquired by the banker, Sir Henry Muggeridge; then a few years later by a Mr. James Christopher Wilson - a rather shadowy figure who seems to have made his money out of gunpowder. 
The death of Mr. Wilson in 1882 brings us back to Henry Ryder, the Earl-in-waiting. And wait he did. It was to be 18 years before he succeeded his brother, the third Earl, who died without issue, which meant that technically the new 4th Earl inherited his title from his father, the 2nd Earl Harrowby. Unfortunately, the newly ennobled Henry Dudley Ryder's life as an aristocrat was short lived. He succeeded his brother in March 1900, but died just nine months later having fallen overboard from his steam yacht Miranda off the coast of Algiers.   
The 4th Earl's widow, the delightfully named Lady Susan Juliana Maria Hamilton Ryder, Dowager Countess of Harrowby (think Maggie Smith) remained at High Ashurst until her death in 1913. Two of her daughters stayed on until 1918, when the first sale documents were drawn up with a view to putting the entire High Ashurst estate under the hammer. For various reasons, the sale was delayed and finally took place in 1921, but with limited success: not even the Hand-in-Hand pub attached to estate could be sold. However, later the same year the residue was sold by private treaty, much of it falling into the hands of a single, speculative builder from east London, who was largely responsible for creating the housing footprint that survives unaltered to this day. 
Although most of the estate land was by 1922 in other hands, the mansion house survived a while longer: firstly as a YWCA hostel, then for about 10 years as a girls' boarding school called Wentworth Hall, until finally, in 1937, Surrey County Council decided that High Ashurst should become a 'School for Defective Children'. Thankfully (in a sense) World War Two, and a battalion of the Royal Canadian Engineers billeted in the mansion, put paid to such a Dickensian fate for the building and children alike. High Ashurst was destined never to recover from its wartime occupation, and in 1949 Surrey County Council ordered its demolition, ending almost two centuries of lives, loves and misfortunes in one of Surrey's most impressive yet little-known architectural treasures.
Here are some great images to support this information
Plan of the High Ashurst estate in the mid 19th Century. Note the triangle on the right formed by what is now Ashurst Drive, Headley Heath Approach and Boxhill Road.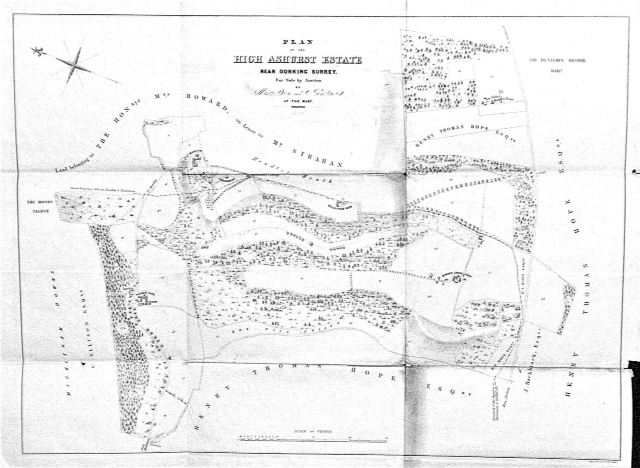 The original High Ashurst in the days of the Strahan family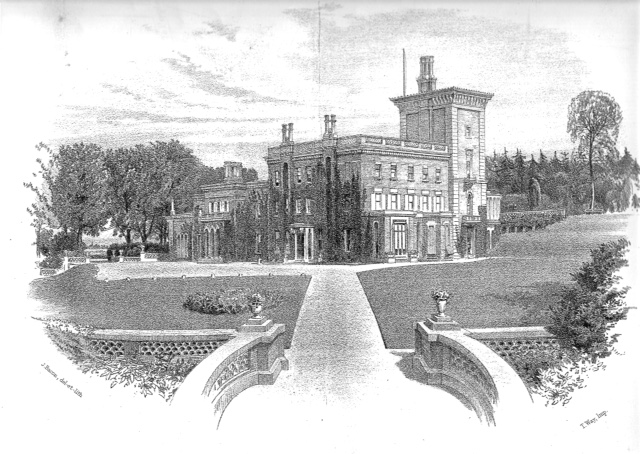 Extracts from the Wentworth Hall school prospectus.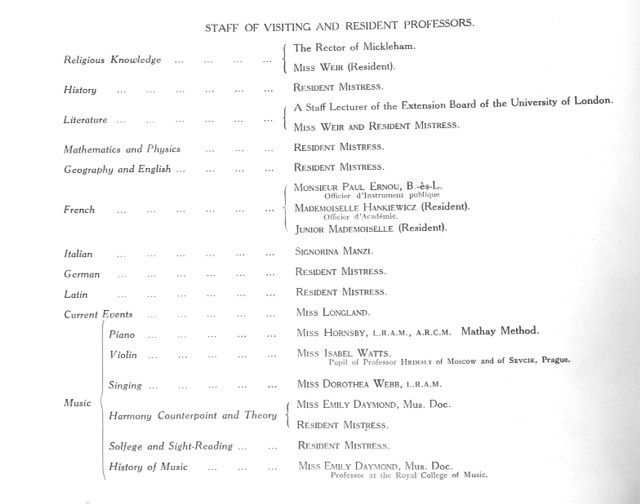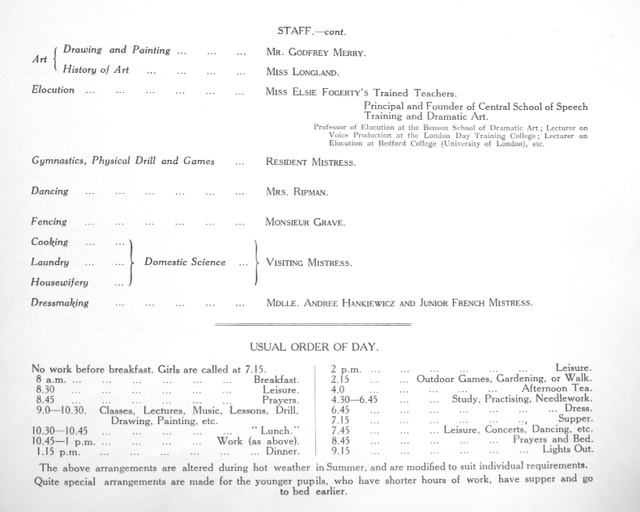 Cookery Lessons at Wentworth Hall school in the late 1920s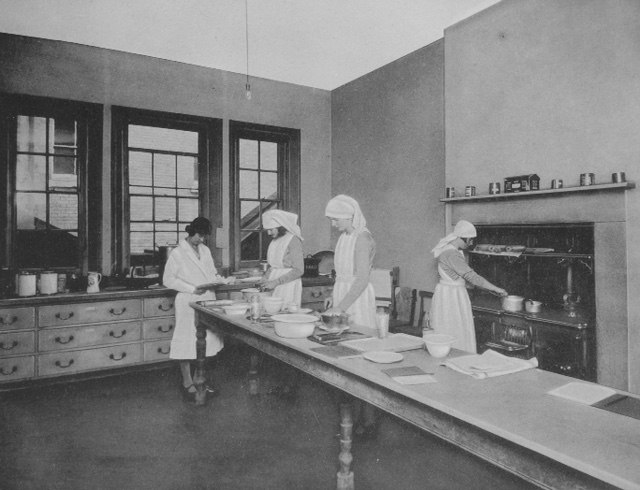 Developed by Earl Harrowby in the 1880s, High Ashurst briefly became home to the YWCA in the 1920s.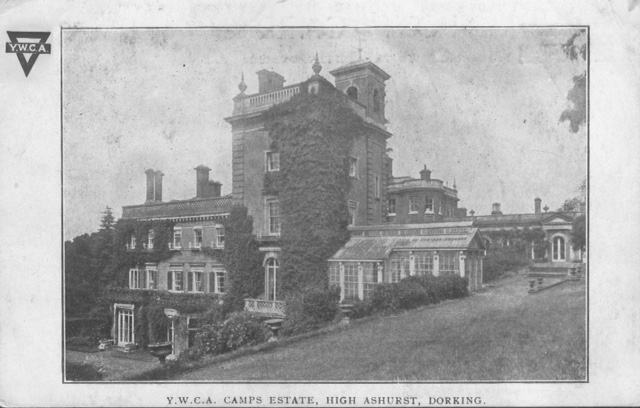 A run down High Ashurst in 1947, shortly before its demolition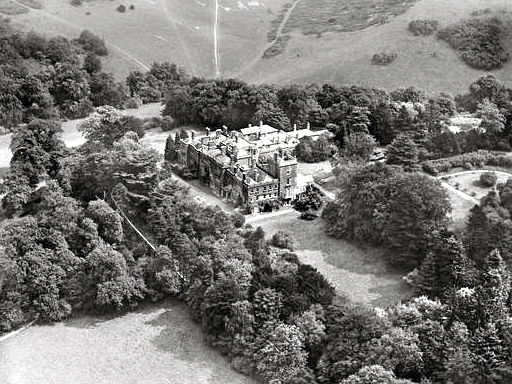 Boxhill Road once boasted more tea rooms than the Strand. In the inter-war years a weary traveller was spoilt for choice. Between one end of the village and the other, there were at least a dozen outlets for the cup that cheers. Some were so busy that the police were called to deal with traffic congestion, and one had a weekend car-park attendant to help keep the peace. 
The principle bastions of a quick brew were located at opposite ends of the village - the Hand-in-Hand to the east, and the Fort Tea Rooms to the west. In between was a motley collection of homes and shacks ready to cash in on thirsty passers-by. And there was one calling itself a Road House Club, and a former barrister's house that had aspirations to become a country club. Even the YWCA was in on the act. Having in 1923 acquired High Ashurst, the organisation tried to market the 40-bedroom mansion as a sort of bed-and-breakfast for distressed gentlefolk who were a few guineas short of a night at the Burford Bridge Hotel. 
Having rattled across Headley Heath or stuttered up Pebble Hill, the dusty motorists heading along Boxhill Road from the east would first encounter the Hand-in-Hand tea gardens. Had they pulled in before 1933, they would have seen an entirely different building from the present pub, and found it a little further along the road, occupying land where now you can get a perm for your dog, or tempt yourself to buy some serious German grunt. What is now Barn Motors was the location of the front parlour of the old Hand-in-Hand, and the present Pooch Parlour was once the tap room and off-licence.  
To the right of the 'old' Hand-in-Hand – once described as 'prettily covered with Wisteria' - was a large, timber-built tea-room with its own garden. And far more extensive than the present plot, the Hand-in-Hand also boasted stables, a motor garage, pig sties, a bake-house, a meadow, various outbuildings, two cottages, and 26 acres of arable land, all at a rent (in 1921) of £110 per annum. What with the pub itself, the cottages and the outbuildings, the Hand-in-Hand was, according to the 1901 census, home to no less than 28 people. When it went up for sale in 1921, the vendors suggested that it was ripe for development '…as a particularly attractive small country hotel', adding that the Hand-in-Hand occupied '…an exceptional position in this favourite holiday resort'. Benidorm, eat your heart out. 
For many years the Wheelers were landlords of the Hand-in-Hand, but after the 1930's rebuild and re-location, a Mrs. C E Bruin became the licensee. Pub and tea-room trade evidently boomed, to the extent that, in 1938, she advertised for a weekend car-park attendant. A Mrs. E. Bruin was also recorded in the 1938 Post Office Directory as the proprietor of the Desmond Private Hotel, Boxhill Road. There is no subsequent trace of such a business, and whether it was the same Mrs Bruin, marketing the Hand-in-Hand in another guise, must remain a matter of conjecture. 
Box Hill residents will be familiar with the large house alongside the drive to Warren Park. Until recently the offices of a dealer in oriental carpets, it is now surrounded by a security fence, pending redevelopment. This was once Hollybush House, owned by a Mrs. Gates and listed in various 1930's directories as a tea house and restaurant, and, with its large car park, would in later years probably have become a Little Chef. But clearly the owner had other aspirations, and by 1943 it was being advertised in local papers as a guest house, and five years later, as a hotel. This building clearly had an identity crisis because in the early 1950s it was being advertised for sale as the Hollybush House Road Club. Apparently membership was 2/6 (12.5p) per annum and members could obtain teas, luncheons and suppers. Holiday makers could rent one of twenty caravans for 15/- (75p) per week or a timber chalet for 35/- (£1.75) per week. This was presumably the forerunner of the present Warren Park.  With its large double-fronted house, the whole business was put on the market in 1952 for £1,750. 
Clearly the Hand-in-Hand and Hollybush House were by no means capable of wholly absorbing the vast influx of weekend visitors. Moving west along Boxhill Road visitors would have encountered many more places for a cuppa, including the Killarney Tea Rooms. According to the 1931 Betchworth rate book, Killarney was at the time owned by a Mrs. Alice Sinnott, who had also owned part of Holly Rough, most of which became Ruskin, the chalet-home site in Ashurst Drive. Run for a while by Albert and Lily Taylor. Killarney was yet another 'tea room' success story. Indeed so great was their custom that in 1931 there were newspaper reports of complaints to the council, and also of the police being called to deal with the number of cars parked on Boxhill Road outside the Killarney Tea Rooms. Apparently one side of the road was frequently blocked by a long line of parked cars and tradesmen's vehicles as the owner would not allow them to be parked on the premises. Today Killarney is known as Hillcrest. (!) 
Somewhere in the vicinity of Killarney were the Sun-Patch Tea Rooms, also owned by Mrs. Sinnott, who, in 1930, was served notice by the Highways Committee requiring her to remove roadside advertising as they encroached on the highway. Clearly the business had been trading for some time. It had been advertised for sale in 1928 as a going concern, and in 1929 small ads in the local paper offered employment for waitresses. It is possible that Sun-Patch became Killarney, although according to the 1930 Electoral Register the resident managers of the former were the delightfully named Alexander Cornelius Rogers and his wife, Ethel - an entirely different couple from those running Killarney at the time. 
It is at this point we must make a slight detour, down to the far end of Headley Heath Approach, and specifically to Rose Cottage, where, in the 1930s, an impromptu tea garden was run by the enterprising Sherman family. According to a fascinating account penned recently by Don Sherman, his parents turned an 80-foot strip of land joining Headley Heath Approach to Ashurst Drive into a busy, if not entirely prosperous, small-holding, selling eggs and whatever produce could be harvested from the tiny plot. During the summer, Mum & Dad opened the front lawn as a tea garden, selling pots of tea for two for 6d (2.5p) or 1/- (5p) with homemade rock cakes and jam. Homemade lemonade was on tap for 3d (1.2p) a glass. Business must have been quite brisk, as Headley Heath Approach was on a popular walking route from Mickleham via High Ashurst and White Road (the footpath alongside Roof of the World) to Brockham and Dorking. This was in the days when 'rambling' was not a lifestyle choice in designer gear, but a weekend recreation made feasible by the large number of buses and trains that would arrive every weekend and bank holiday. Even suburban London bus routes would be extended to Burford Bridge, as the

acco

mpanying image clearly illustrates. 
Anyway, I must leave you at Rose Cottage to make your own way back to Boxhill Road, alongside land once owned by the Spencer-Churchills. Our journey will conclude in the second part of this feature, calling in at Anne's Tea Parlour, a country club, a social club, and a night at the big house on the way.
In the first part of this feature I left you making your way back from the Rose Cottage tea garden along Headley Heath Approach. Amongst this month's selection of catering outlets we will briefly encounter the Lavender Hill Mob and premises with a real identity crisis.
The lane immediately opposite Headley Heath Approach is (or was) called White Road and was a popular route to and from Brockham. Had you taken that route in the early 1900s, the area to your right would have appeared on local maps as Milton. It might easily have been called Brodieville, given the extent of land owned and occupied by Sir Benjamin Brodie, Bt, and his daughters – Phoebe Mary, known as 'Miss Biddy', and Olive Margery, who both became well-known village benefactors.
Sir Benjamin's home, Brockham Warren, will attract our attention in due course, but first we must visit the oddly named La Voko (sometimes Le Voko) Social Club, which was located to one side of White Road on land now occupied by the Roof of the World park-home site (at one time appearing on Surrey County Council maps as Camping Club of Great Britain). La Voko first appears in the 1930 rate book as a social club owned by a consortium of gentlemen from Lavender Hill, Battersea. In 1934 a planning application was approved for the construction of a library, steward's quarters, store and cloakroom. When built these additions enabled La Voko to up its game, and in 1938, a Mr Rayner had begun to advertise the enterprise as an Institution and Social Club. What with a library and a steward, La Voko had all the trappings of a gentlemen's club but on a less grand scale than its contemporaries in St. James's - few of which occupied outbuildings in a muddy field. La Voko does not appear in any postwar records, although I have met at least one former resident of Box Hill who remembers the place. (If you can throw any more light on this fascinating business please call me on 01737 844835.).
Somewhere along this stretch of Boxhill Road, probably on the north side, was the so-called Hollywood Café, which in 1933, as well as advertising tea and cakes, also invited offers for a caravan (4 wheels) and a couple of Morris Oxford cars. By 1938 the business had morphed into Hollywood Amusements, offering would-be punters roundabouts, side-shows and cokernuts (sic). Still not content, during the war years Hollywood re-invented itself as a sawmill, advertising in 1942 'Seasoned Oak or Silver Birch Logs' at £2 per half-ton – apply by post.
Scant records fail to reveal the exact whereabouts of two other tea-rooms along this stretch of Boxhill Road – Anne's Tea Parlour, and Miss Reid's Refreshment Rooms, although both appear in several Post Office directories issued during the 1930s.
Before we reach Brockham Warren and the remaining tea-rooms on the south side of Boxhill Road, it is worth mentioning that High Ashurst, the former estate of which borders this section of Boxhill Road, was briefly the property of the Young Women's Christian Association (YWCA). The Association ran a sort of bed and breakfast operation in the huge house as well as providing a haven of moral rectitude for young ladies of prim and proper demeanor - at least until the lights went out. High Ashurst was given to the YWCA by Lord Rowallan, who had bought the former country seat of the Earl Harrowby from a speculative east-London builder (who will play a central role in next month's feature). Lord Rowallan was a property developer and married to the daughter of John Polson, the founder of Brown & Polson of cornflour fame. His grandson was to marry George Jamieson, better known as April Ashley who scandalised Britain in the 1960s by his/her much-publicised sex change.
Unfortunately for the YWCA, Box Hill seems to have had little appeal to young ladies of any moral outlook, or to the tourist trade, and within a couple of years High Ashurst had become the Wentworth Hall boarding school for young ladies with parents sufficient means.
Anyway, back to the home of Sir Benjamin Vincent Sellon Brodie, 3rd Baronet Boxford of Suffolk. His father had bought the house, with its own private 'zig-zag' carriage road down to what is now the A25, and Sir Benjamin lived there until his death in 1938. Ironically, given that the late departed Baronet was a barrister, his once-fine mansion survived the war only to become a house of some disrepute, with several clashes with Surrey Constabulary and the local bench forming grist to the mill of Surrey's crime reporters. For example, in 1947 the Surrey Mirror reported the first of several shenanigans involving the management of the new Brockham Warren Manor Country Club. It started when the license application was thought to have been signed by a 16-year-old-girl, but under examination at the local magistrates' court the manager of the club admitted that the actual signature was that of the girl's mother, who signed the document during her daughter's absence. The manager, Mr. Harvey, told the bench that it had been decided to appoint the girl as secretary, but she '…had never accepted the position and now definitely refused.' Given that the Surrey Constabulary considered the application to be unsound, their objection was upheld and the licence refused.
Undaunted, the Club opened anyway but before long Mr Harvey was once again in the dock. Described as an ex-sergeant-major and secretary of the New Brockham Warren Manor Country Club, Box Hill, Surrey, Edward Harvey was fined a total of £101, plus 20 guineas (£21) costs for using his club for music and dancing and supplying intoxicating liquor without a licence.  But the police also got it in the neck from the bench. It was stated that police and officials, using false names, went into the club without becoming members, bought drinks and danced until midnight. The chairman of the bench said, "Prosecuting counsel has asked us to allow costs against the defendant of £19 8s 0d (£19.40) for money supplied by the police and the county council to their officials to spend on food and drink for the purpose of this prosecution.  The Justices strongly disapprove of money being supplied to people to commit offences so that parties to the offences may be charged. We hope the police and county council will discontinue such an improper practice. All the officials and policemen and policewomen who gave evidence could have been brought before this court and charged with offences they committed with this money, most improperly provided and spent." The costs were disallowed.
Never a great success, the grandly named New Brockham Warren Manor Country Club quickly faded into obscurity, and the Baronet's former home was converted into five apartments.
Much more enduring were the Upper Farm tea-rooms, which, in one form or another, have survived for more than a century. Trading today as the Smith & Western, and having for a while been one of the UK's first Wimpy Bars, the tea-rooms were opened at the turn of the 19th/20th century by a Mr. George Elliot, who was a tenant of the Deepdene Estate. When the estate went on the market in 1921, Upper Farm and the tea-rooms (Lot 39) were sold as a going concern to Mrs Laura Collins. Her late husband had been the Head Gamekeeper on the High Ashurst estate where the family had lived in one of the Bullenwood estate cottages. The cottages were later incorporated into Bellasis, built originally for Viscountess Ridley, the daughter of Winston Churchill's aunt. 
The Deepdene Estate in the form of Lord Francis Pelham Clinton Hope also owned the land occupied by yet another tea-room, the last on our journey from east to west. A fairly grand affair, Holden's Restaurant and Fort Tea Rooms was situated in the cottages attached to the former London Mobilisation Centre Box Hill Fort built in 1899 and leased to Mr Holden for his catering business in 1908. The building is now part of the National Trust building complex but the original roof-line and chimney pots are still recognisable. It is still a tea-room of sorts but refreshment-seekers have to shift for themselves and perhaps lament the passing of liveried waiters and prices that didn't make your eyes water.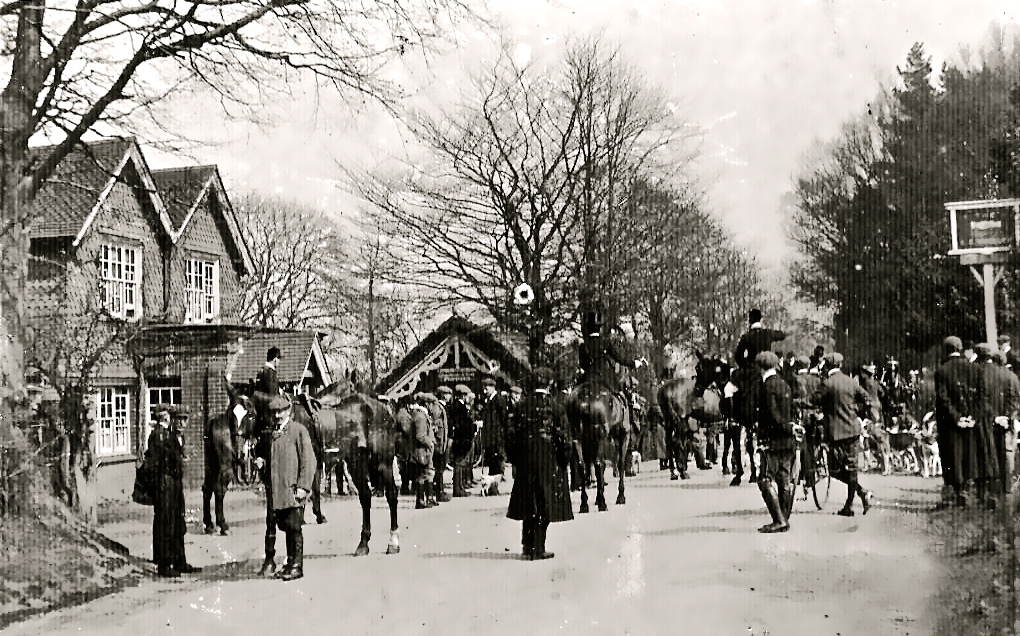 FORT TEA ROOMS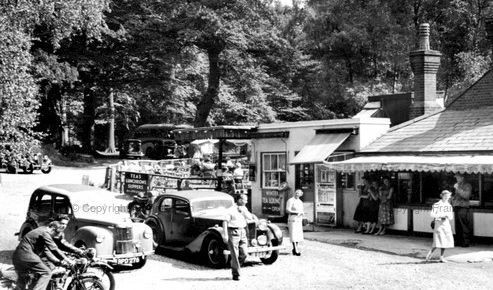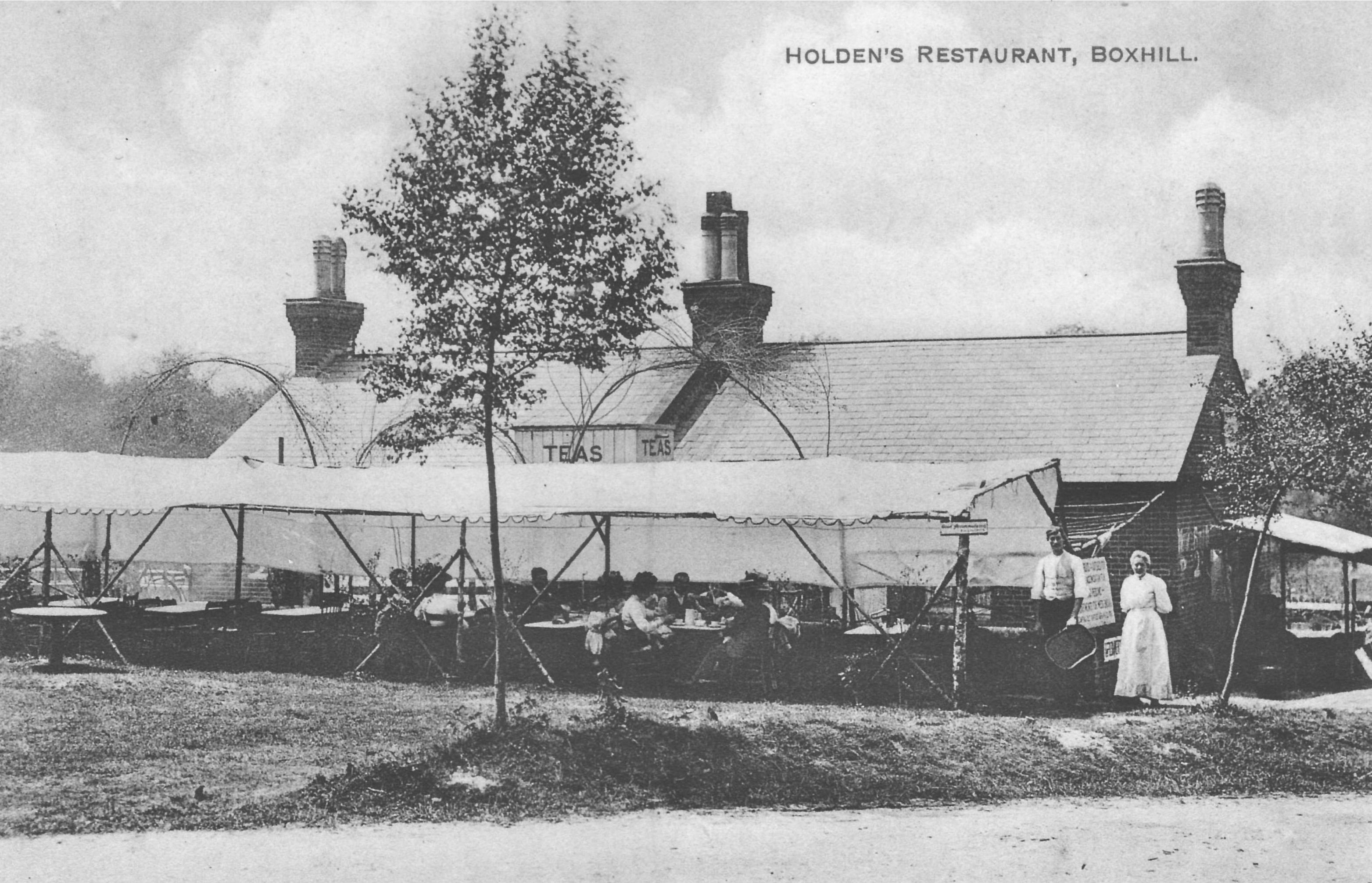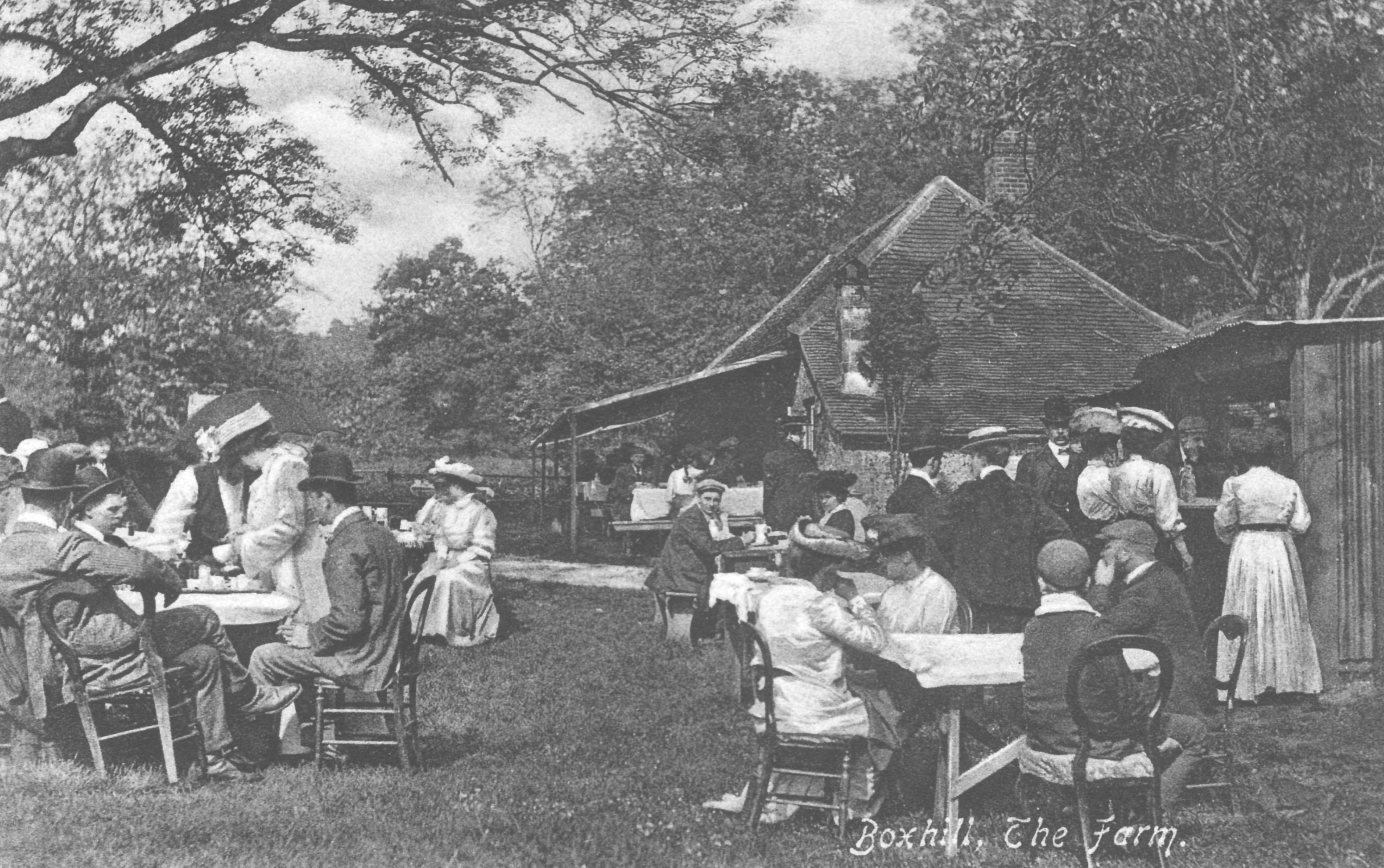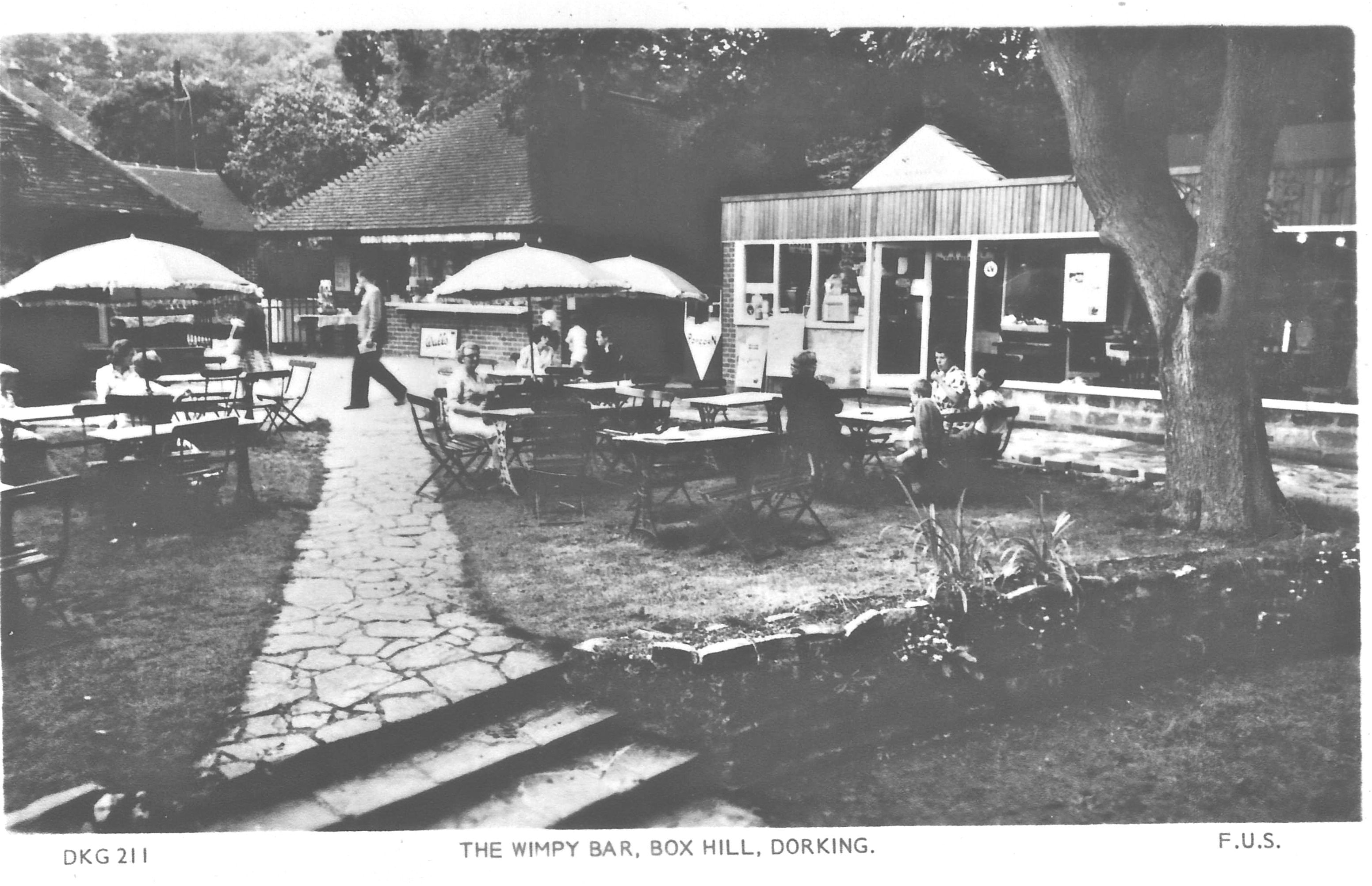 OUR THANKS TO GRAHAM WHYTE, OUR LOCAL BOX HILL HISTORIAN FOR PROVIDING ALL OF THESE STORIES